Many people think that anxiety and panic attacks are the same but they are actually quite different.
I started suffering from anxiety before I started suffering from panic attacks. In fact, in my book, "Help! Why Am I So Anxious?!" I share many stories you may relate to.
But let me backtrack a little…
When anxiety really started to affect my day to day life…
I felt permanently worried; even if there was nothing specific for me to be stressing about
I felt unsettled and low, and this soon started to manifest as physical symptoms
I would feel very off balance and light-headed most of the time.
My heart would beat at more than 100bpm (beats per minute) for days in a row, even when I was sitting down and trying to relax
My tummy was always in a knot and muscle twitches became a daily part of my life (Oh man, those muscle twitches, I remember them well)
That's not all!
When I was out at a store or attempting a walk in the neighborhood, I could feel my heart rate shoot up even more, and I find that when my heart rate is high, every other symptom becomes magnified.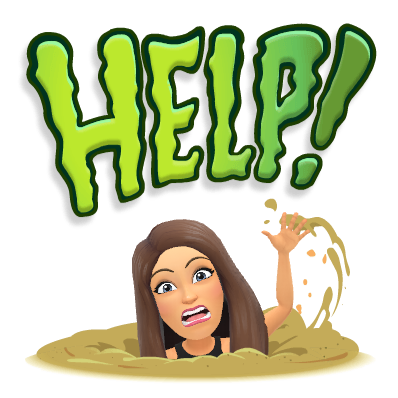 Eventually, this onslaught of all-day anxiety symptoms got so bad and I put a little too much trust in my "friend" Google that I soon started to obsess over them.
I became convinced there was something seriously wrong with me.
Many people with an anxiety disorder have health anxiety too, simply because we become so hyper-aware of our bodies and every little sensation, that we become convinced that something a lot more sinister is happening, even with a doctor's reassurance that everything is A-OKAY.
I soon came to realize that this heavy feeling was GAD or generalized anxiety disorder
It's that typical doomsday kinda feeling, and a feeling of not being quite yourself day after day. GAD refers more to symptoms and feelings you may experience over the long-term.
It's that awful uncomfortable feeling, where you just don't feel right in your own skin, you just can't shake it.
Your heart pounds, your muscles are tight, you feel dizzy a lot, you notice every single symptom, no matter how subtle, you may feel short of breath, the list goes on.
When I had severe generalized anxiety disorder (GAD) I was anxious every second of every day.
It's uncomfortable, but you kind of just try and push through and carry on, even though it feels pretty terrible.
I remember one day quite vividly when I took my heart rate and it was at around 120 beats all day! I mean every minute, there was no lull.
I had to go grocery shopping and had to keep stopping my cart to catch my breath.
In fact, I always went into a grocery store with a cart, because it was my "safety." I could lean on it if I became dizzy, which was the majority of the time.
I struggled like this for some time before experiencing my first panic attack.
Now let's get into what a panic attack is exactly
Well, panic attacks are kinda like anxiety on steroids.
They're not long-term, in that they only last for anywhere from a few seconds to a few minutes until the anxiety reaches its peak and then starts to subside.
Just a few seconds is enough though when you are going through one!
You may still feel anxious, but the intensity of a panic attack eventually dies down.
Panic attacks happen because your brain believes there is a real threat and sends signals to your body to behave accordingly.
It's a burst of adrenaline that causes intense sensations from severe dizziness to difficulty breathing to chest pains that mimic a heart attack.
Many people will often start with GAD and then have it progress on to panic attacks after too long of not getting to the bottom of what's causing all their anxiety.
Although I also know people who struggle with random panic attacks, but are fine the rest of the time.
It really comes down to the person and their unique experience.
Trust me when I say you will immediately know the difference between GAD and a panic attack. The sensations of a panic attack are so intense (remember, your brain thinks you are in a life-threatening situation) that you genuinely feel like you are about to die.
That is not being dramatic.
When I experienced my first panic attack, in line at a drugstore, I thought I was going to die. I really believed it.
I thought something was wrong in my body and that I was going to fall over and die right there, in line.
I actually raced outside (the flight response kicked in) and it took a few minutes before my breathing returned to normal and I started to feel slightly calmer. It was horrifying.
When I started experiencing panic attacks I immediately rushed off to my doctor for prescription meds (I talk about this on my podcast, on my youtube channel, and in my book) but all it did was cover up the symptoms and not really address what was going on.
You'll hear me talk about this often.
Like a weed that needs to be pulled from the root, so does your anxiety, otherwise, it will continue to flare up no matter how many tips and tricks you try.
I know it may seemingly come up out of nowhere sometimes, but as humans, our natural state is not an anxious one, so it's coming from somewhere.
It could be really obvious, such as stress that you are currently going through and well aware of, or it could be less obvious, such as hidden food intolerances.
My book "Help! Why Am I So Anxious?!" goes really deep into my experiences with anxiety, from GAD to multiple panic attacks, my meds (and withdrawal) experience, as well as how I started healing on my own through nutrition and various holistic lifestyle changes.
You can grab your copy of the eBook version here, or alternatively, you can purchase the hardcopy here.
While delving deep into nutrition and doing the inner work is key to provide long-term relief, there are a few tips and tricks I recommend for instant relief at the moment when a panic attack strikes.
Keep in mind that some of these things can provide long-term relief too if practiced/taken daily.
💧Ice water
I was never without my bottle of freezing cold water when anxiety was my constant companion.
I would freeze bottles of water and then take it out of the freezer a little while before I was leaving so it could start to thaw a bit.
If it's freezing where you are then you may just want to keep your water in the fridge because it will stay cold when you are out.
I would place it on my pulse points to help slow my racing heart a bit, on the back of my neck and my face to bring down an anxiety flush, and I would sip on it too, to bring my mind into the present.
Check out this Instagram Reel I did on this trick:
💊Magnesium glycinate
My savior supplement, and one I have spoken about since the beginning!
Most of us are actually deficient in this important mineral, but even if you aren't sometimes taking extra can make all the difference!
To learn absolutely everything about my favourite supplement click here!
🌱CBD
I have been taking CBD consistently for a few months now, and I am blown away by the results!
CBD comes from the hemp plant, but unlike THC (which comes from a different part of the same plant) CBD is medicinal and used to ease anxiety and insomnia with no negative side-effects, it will not make you high.
My favourite brand, which I've partnered with is ThoughtCloud. You can use my code VIBE to save some money when buying CBD from them.
Here are a few of my current favourites:
If you're in Canada, you can find ThoughtCloud products at CBD Shop Canada.
👃Alternate nostril breathing
Deep breathing was never "my thing."
I just couldn't get the hang of it, but yoga really changed things for me where breathing is concerned.
Initially, I would gasp through my flows, never feel like I was taking proper deep breaths, but with time and practice, so came naturally deeper breaths.
I know that in the midst of a panic attack it can feel difficult to get enough air, in which case you may find alternate nostril breathing more effective; it also gives your mind something to really focus on as you alternate.
See how to do it here, or download the Calm App for access to a library of different breathing exercises.
---
I hope this post has helped to clear up the differences between generalized anxiety and panic disorder if you were confused.
When anxiety really started to manifest in my life, I had no idea what was going on, I had so much learning to do.
But starting to learn about your disorder is incredibly empowering and is just one major step forward in your healing journey!
In case you feel alone and scared right now, let me just remind you that you truly are stronger than you know.
I didn't believe it when I would fall into yet another crying heap after another panic attack had struck, but believe me, that inner strength is there.
I believe in you and believe you are reading this for a reason, let that sink in!
If you're ready to start learning more about your anxiety and finally want to start taking your healing into your own hands, then do follow along with my daily posts on Instagram @honestlyholistic
I also highly recommend my e-book, (soon to be a physical copy!) as something you can refer back to again and again on your journey.
If you're really struggling with panic attacks right now, you may find the Panic Away program I did helpful.
Much love to you, you are safe.